This post will come as no surprise to anyone that knows me, I love shoes. I've compiled a list of shoes that I'm loving on ASOS at the minute, and I'm planning on making this a regular feature focusing on different brands/sites.
Hopefully there's a pair of shoes in here for everyone!
Trainers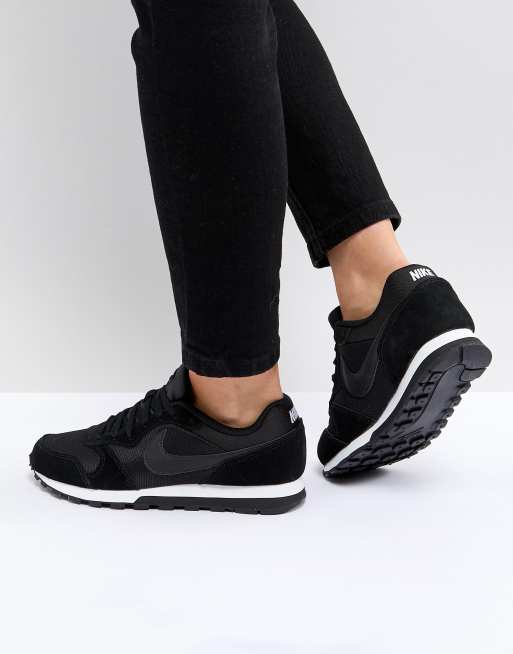 These Nike trainers are so cool. I have a massive thing for trainers at the minute because activewear is the epitome of comfortable style. I like that the Nike logo is in black on these bad boys but that the white accent on the sole stops the style from feeling boring.
(£55)
This is another pair of beautiful trainers. Can trainers be beautiful? Yes, see above. Adidas always creates amazing shoes and these trainers are no exception. I love the grey, especially because we're headed into Spring and the warmer months. You can pull out your lighter denim and these trainers will work perfectly.
(£100)
Pumps/Flats
I know these shiny girls aren't going to be everyone's cup of tea but I think they're fabulous. I'm a big fan of a statement shoe because they help make even a basic outfit seem more stylish and effortlessly chic. As an added bonus, these silver flats are wide fit which means my beefy toes will be comfortable! I always look out for ASOS's wide fit shoes because I do think their regular shoes run quite narrow- at least they do on me.
(£25)
These shoes come in black and nude. I'm a fan of both colours, but for once I think I slightly prefer the nude colour to the black! Maybe it's because Spring is around the corner and I'm trying to force colour into my life. In any case, neither are particularly expensive so if you're also on the fence, there's no harm in buying both…
(£22 per pair)
Heels
I know I've missed Valentine's Day which these red heart heels from Public Desire would have been perfect for, but they're cute enough to get away with in any month. Spice up your March with some sassy shoes and give yourself some self-love. Again, these won't be everyone's taste and if I'm being honest you're more likely to find me in flats since I'm relatively tall and horrendous at walking in heels. However, if I ever fancy a dressy night out with my gals then I'll definitely be putting this pair in my basket.
(£29.99 currently only available in a UK size 8)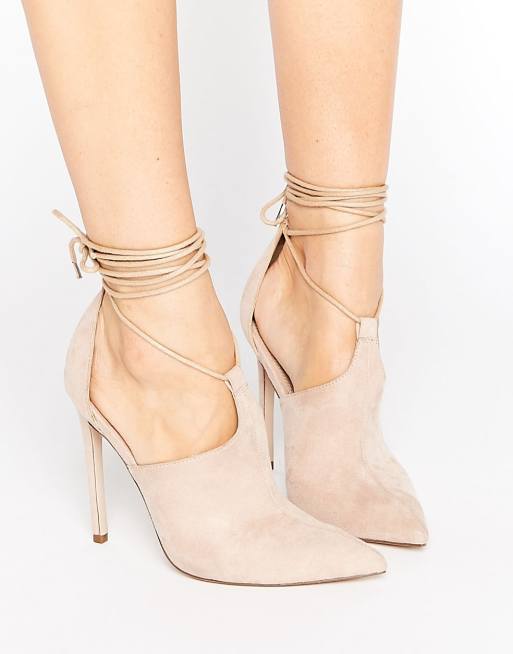 Hallelujah, these nude/pink heels are divine. This is another fun pair that definitely scream 'Girl's Night Out!' to me – but I reckon they would look lovely with a dress or jumpsuit for a wedding. The ankle ties help to make quite a simple shoe into more of a statement and would help elevate any outfit. Even pairing these with black jeans would make a snazzy outfit.
(£42)
Boots
I know we're technically out of boot season, but I couldn't help but include these River Island sock boots. I think these are the perfect length, material and width for my slightly wider feet. Some sock boots that I've seen have been in a fake suede material which just wouldn't last if I were to buy them because I'm an aggressive walker. This faux leather seems much more durable and more sensible for British weather.
(£30, reduced from £50)
If you've been looking for the perfect heeled boot to wear in the Spring, this is your guy. These nude heeled boots are so much more eye-catching than their black equivalent. I think they're a really cool pair of boots which you could definitely get away with at any point of the year. They are on the pricier end of the spectrum but they've been reduced! There are definitely some benefits to ignoring seasonal trends.
(£70.50, reduced from £159)
So there you have it, my March picks from ASOS's vast shoe selection. Happy Shopping!