Hopefully the UK will begin realising it's May and the weather will warm up soon… Optimistically, I've compiled ten of my favourite skirts on ASOS at the minute. Please, England, let me bare my legs at some point this month?
This red skirt from New Look is super cute. I love the bright colour and the D-ring detail at the waist. I'm a huge fan of how the skirt has been styled above, but it could definitely be dressed up very easily with heels and a blazer for a smarter look. (£19.99)
I'm usually not a massive fan of animal print, but this zebra mini skirt from Pull&Bear caught my eye. I can imagine this being the perfect statement piece for a night out with your pals. (£20.99)
This bow front skirt is also from Pull&Bear. Something about the bow detail paired with the stripes really appeals to me. I think it's a playful piece that could easily transition from day to night. (£22.99)
This lace midi skirt is a change of pace from the tight minis. I think it'd be perfect for summer – especially for those times when you want to be a little dressier but still comfortable and cool. (£20.00)
This crossover denim skirt from Brave Soul is pretty simple, but the crossover detail gives it some interest. As a basic piece for your spring/summer wardrobe I reckon it's definitely a winner. (£20.00)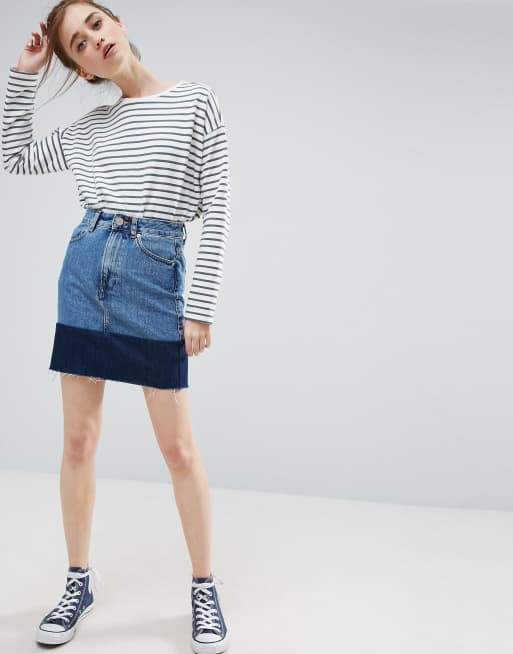 This contrast hem denim skirt will be coming to live with me very soon. I love the colour-blocking at the hem and the length. I think this would work really well in the cooler months too, because the darker hem means pairing it with black tights wouldn't be an issue at all. (£25.00)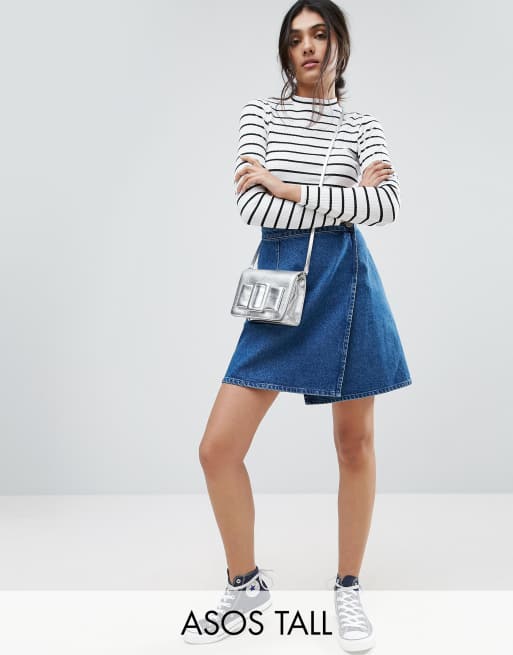 I recently bought this wrap denim skirt in black and I absolutely adore it. I'm around 5ft9 so I'm a massive fan of the ASOS Tall range. I really struggle with skirts because I love the high-waisted style but also obviously enjoy having my bum fully covered. This skirt looks amazing, and protects my modesty. (£22.00)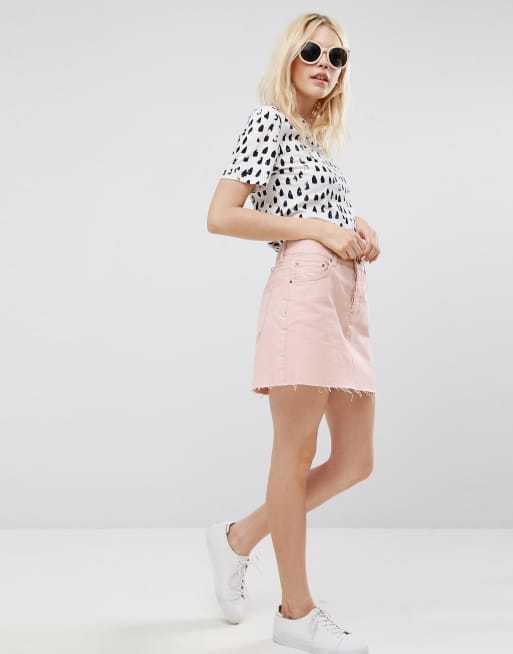 This light pink denim skirt is perfect for summer. I'd style this, like they have, with a white tee, sunnies and white converse for the perfect day-time outfit. (£25.00)
This camo denim skirt from Pull&Bear might seem a tad autumnal, but when paired with a white tee I think it'd be an effortless spring/summer outfit. (£18.99)
This final embroidered denim skirt is also from Pull&Bear, it represents my unwillingness to let the embroidered trend die. I think this style of embroidery is so beautiful and automatically elevates any outfit. (£22.99)
So there you go, a lot of denim, leg, and wishful thinking. Bring on the warmer months!
Don't forget you can follow me on twitter and instagram if you're missing me between blog posts.