image via Dark Horizons
I went to see this Edgar Wright masterpiece on my 20th birthday. I knew I was going to love it because Hot Fuzz and Shaun of the Dead are in my top fifty favourite films.
The premise is a young and talented driver who owes a bad-ass criminal (Kevin Spacey) a lot of money for something he did when he was younger. Spacey hires him to be a getaway driver for heists he has planned, basically, and Baby (Ansel Elgort) is just ploughing through each heist, waiting for his debt to be paid. There's also the customary love story laced through the film, which I'll allow because it's adorable and Lily James is fab. I honestly would've found the film just as encompassing without the little romance divergent, but I guess I am predictably biased against two-dimensional female characters. That being said, 'Darling' (Eiza Gonzalez) is a really cool female character, disappointingly a little underdeveloped, but still with some bad-ass fight scenes written in.
Eiza Gonzalez as 'Darling' – image via cinesnob.net
The film itself is loosely based off (more like expanded from) a Mint Royale music video which Edgar Wright directed back in the day. The video is fantastic: it involves Noel Fielding dancing and lip-syncing whilst waiting in a getaway car. (Thank you, David, for bringing the incredible video to my attention!) If you want to give it a watch, you can find it here.
Speaking of music, the soundtrack for this film is fantastic. I'm a fan of old music which makes you feel nostalgic; the kind of music which you can imagine your dad swaying to in front of his busted record player. If you like a similar vibe, you'll love the score. It isn't musically dull, however, it's fast-paced and adrenaline-fuelled.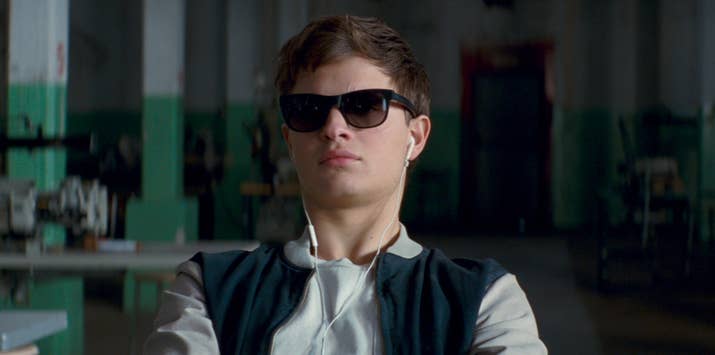 image via Buzzfeed
Baby is such a cool and complex character, even though he doesn't say much. I found him really fascinating to watch, I think Ansel did a fantastic job bringing the character to life and making the audience care about what happened to the kid.
Overall I'm obsessed with this film. To me it's like a mixture of Guardians of the Galaxy and The Transporter – both of which appear in my top 20 favourite films so it definitely gets my stamp of approval. My boyfriend did point out that he found it less humorous than other things Edgar Wright has directed. I would agree, actually, but possibly because Baby Driver doesn't use dry, British humour in the same way as the cornetto trilogy. I found this film less of a comedy, and more of a drama/romance type of film, but it was still fun, y'know?
Don't forget you can follow me on twitter and instagram if you're missing me between blog posts.