Since we all know I'm an ASOS addict, I figure there's no point trying to hide it – you all may as well benefit from my shopping successes and failures. A lot of the 'worst' buys can be blamed on my hourglass figure seeing as my body type isn't exactly on trend right now. So, if you have a bust and some hips look at the ASOS mistakes I made and take heed.
So here goes, my best and worst ASOS purchases from the past few months.
Worst:

I freaking loved this cami on the ASOS site! It arrived. I tried it on. Clearly I just completely forgot that I have two stupidly big lumps of breast on my chest. It looked so ridiculous on me. The little triangle bits wouldn't have covered anything if I'd actually dared try it without a bra, and the nice 'trim' ended up in line with my nips because it was clearly designed for lovely flat tatas. Fail.
I bought this snakey number for my trip to Barbados at the beginning of the year. I do usually know better than to buy bikinis online, but since we were going in January, no shops were stocking their swimwear stuff yet! I thought I'd be safe because it was labelled as 'fuller bust' but I was incredibly wrong. The top vaguely fit, but then there was no way to adjust the halter feature so it just wouldn't stay up whatsoever. Ditto with the bottoms, the actual pant fit fine but the crossed detail was way too loose on my stomach/hips so it just looked baggy and gross. Hit me up if you want this bikini because there's no way it will ever fit my body!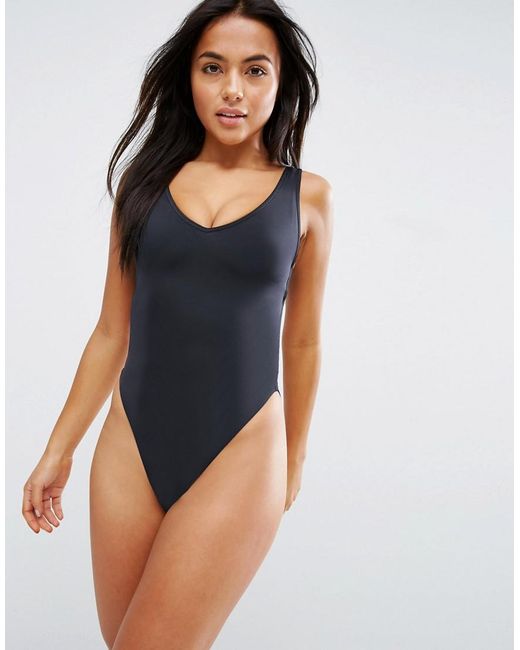 Yep, I risked swimwear again. Yep, I'm an idiot. This swimming costume was intended for my Thailand trip, but I'm so glad it didn't arrive in time because it was not at all appropriate for a father-daughter roadtrip. I think the only person I would allow to see me in this would be my partner, because it's kind of hard to avoid Baywatch vibes. I thought I was safe because it said 'FULLER BUST FF-G' but NAH. Technically I fit into this, but my boobs are aggressively flattened and forced either to my stomach or to my chin. Not great.
Okay, this one I'm not taking responsibility for. I ordered this tee to work out in. I purposefully read the item description, model size etc. and ordered a small. I'm about a size 8-10 depending on which shop I'm in. This tank is fucking huge. I'm 5'8 roughly and this tank comes down to my mid thigh – since I do have hips, I don't really like things hitting me there because my waist ends up disappearing. I have kept this shirt because a) it looks sweet when tied up/tucked in at the waist and b) it's cute, relevant and I'm not massively fussed what I'm wearing when I exercise. Still, beware – it's enormous!
Best!
This tee is so sassy and fabulous. I love everything about it, fit, design, material – everything! I feel so untouchable when I'm wearing this. Plus, hey, who doesn't like a nice little dose of feminist irony on their clothing?
I have had so many compliments on this dress! No-one can believe I got it from ASOS, in all honesty. I was sort of worried about the button-up detail (busty ladies, you get me) but it was fine! There's a little bit of material behind the buttons which helps. I wore this on my Dad's birthday which ended up as a surprise party for my 20th! As reference, this is what it looked like on me:
This jumper is also a winning purchase. It's black, oversized and super comfy. I'm very much impressed! I feel effortlessly cool when I chuck this on, plus it's great for a meal out when you know you're going to end up with a killer food baby. (AKA every meal out..)
This sweet little necklace has quickly become a staple in my jewellery hoard. My hoard is actually pretty sparse nowadays because I've scaled back and embraced the minimalist vibe. This piece is delicate enough to fit in, but also has a little personality with the moon and stars. Plus, for £6 you can't really go wrong.
These are now my current autumnal favourite! They're so coooooool! It's like wearing regular Chelsea boots but on acid! They're so so cool and comfy. These are definitely a win, I will buy these over and over when I inevitably wear them to death.
Now for the ultimate winner. THIS HOODIE IS AMAZING. This is the clothing embodiment of my personality. Bright, fun, bitter, in your face, cute? It has it all. I fucking love it. I'm gonna be buried in this. It's out of stock (because it's so awesome) so sorry if you've fallen in love (which you probably have). There was only a large available when I was purchasing so mine is super snuggly since it's already designed to be oversized. Win, win, win, thank you ASOS for allowing me to bask in this bitter, lemony goodness.
I hope you've enjoyed perusing the rises and falls of my damaging shopping habit. Mainly successes, really, since I do my research and think pretty hard about each and every purchase before spending my money. I hope some of you have had some ASOS fails too, but also some major wins!
Until next time, loves.
Don't forget you can follow me on twitter and instagram if you're missing me between blog posts.