I'm currently flat hunting in Glasgow because I'm hoping to be accepted onto a Masters course and move to Scotland for a few years. I love Glasgow to pieces. Anyway, I'm well aware that I will have limited space and funds with which to deck out my flat so I've been searching for ideas. Obviously some of these images contain some bloody expensive items, but it's the inspiration that counts.
I love the idea of having an indoor jungle, plus with a greenery shelf above the bed, it means no worrying about splashing out on fancy artwork!
This iron frame bed from IKEA is kind of similar and is only £99 for the frame, so definitely affordable.
I absolutely love all the colours in this picture. I want a whole array of multicoloured crockery, glassware and cookware. Plus since open shelving is cheap, pretty colours mean automatic kitchen decor.
These glasses come in blue, pink and green from Wilko. Best of all, they're a pound! £1! Amazing. I would probably collect different colourful glasses from charity shops as I found them which would take a while but would be totally worth it and my bank account wouldn't suffer too much.
Ditto with the glassware, I want an eclectic mix of plates. I have an idea to collect crockery from everywhere I visit and build up an amazing selection which will remind me of my travels. So far, I only have two (beautiful) bowls from Thailand because there was no point beginning the collection when I didn't have my own space.
I know that pink is very big right now, so I might regret buying a statement sofa in the shade, but I really really like the idea!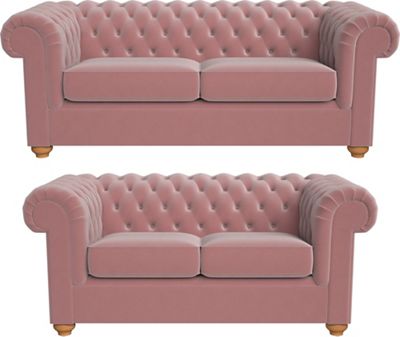 These sofas from Debenhams aren't really affordable at all but they're pretty, pink, tufted and it's a set of two so it could be worse. They're currently going for £1,665 which I guess isn't bad for two lovely sofas.
This picture is just to remind myself that the bathroom needs love too. I think I'd like a bit of greenery in there too, but I love the minimalist colour scheme and little splash of kooky with the skull. (There's no way I would have something that spiky above me as I did my business though, no way. Nuh uh.)
This is such a cosy mix of furniture. If I can find a similar style rug for under £100 I'll be singing.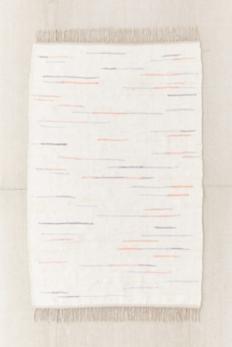 This rug isn't really similar in any way, but for Urban Outfitters it's pretty affordable! I like the colour and the style – not bad for £60.
I included these cute little cat pots to remind myself to have fun with it. I think it's really sad when you walk into someone's home and it looks as if anyone could live there, you know? I think if you're spending a lot of time somewhere it should have your personality running throughout every room. Buy the cat pots and be happy.
Finally, I've included this image because I adore the way this entire house is decorated. If you'd like to see more, check out Jordan's incredible home tour over on Joanna's blog, 'A Cup of Jo'.
That's all for now. I've not even completed my MLitt application and I have no firm plans for a flat yet so it will be a while before I can put these ideas into practise. Hopefully I will upload some before and after shots when I do finally customise my own space – watch this space.
Don't forget you can follow me on twitter and instagram if you're missing me between blog posts.